Return to essay: How does ice cover vary in the Bering Sea from year to year?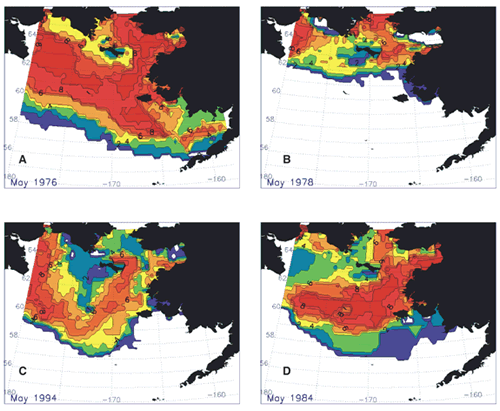 This figure shows four distinct meltback patterns which have occurred in the Bering Sea. All the maps show averaged conditions during the month of May as derived from National Ice Center (NIC) ice charts. The dark red areas indicate the regions with the heaviest ice concentrations with dark red showing heaviest ice concentrations (noted in tenths), and blue areas indicating more diffuse ice; white is open water; the land is black. The heavier ice concentrations (>5/10ths) generally represent the regions of thicker sea ice, while the lighter concentrations show thinner, more diffuse ice, where melt is most likely occurring (<5/10ths). The location of regions of heavier sea ice concentration is important to creation of the cold pool, especially on the western shelf.
The pattern of ice meltback contributes to the regional distributions of the nutrients required for the annual phytoplankton bloom, critical to the entire ecosystem. Patterns of ice retreat during the cold period, before the regime shift of 1976 showed heavy ice across the shelf (Fig. A). Since the regime shift in the 1976 there has not been a return to the extensive ice as seen in Figure A. Since 1977 to 2000 three meltback patterns have emerged as seen in Figures B-D. These patterns are: Extreme melt from the southeast leaving a patch of heavy ice in the western shelf (fig. B); melt from the east and the north, leaving heavy ice on both the eastern and western shelves (Fig C), and a distinct western melt pattern which leaves the heaviest ice on the eastern shelf (Fig C). Lower concentrations of ice in May indicate areas of melt, caused by winds and warmer water; the patterns seen in figures C and D may indicate changes to the flow of warmer water across the shelf. A western melt pattern similar to that seen in figure D also occurred in the years preceding the phytoplankton bloom of 1997, and may have been an indication of changing conditions on the shelf.
Return to essay: How does ice cover vary in the Bering Sea from year to year?